PIR-613 UFO Sensor

Model No : PIR-613
Functions & Characteristics:
The first one which has four rotating sensor parts, and it can adjust the sensing direction to solve the blind spots where the normal sensor could not reach. Besides, these 4 sensors work independently with high performance.
Special circuit design with the auto light feed up patented design can resist spark, surge and noise.
UFO Sensor has time and day & night functions, and it can be set freely.
Combine with any lamp, such as Incandescent lamp, Fluorescent lamp, energy-saving lamp and LED lamp.
UFO Sensor Application: Hallway, door gate, corridor, stairs, garage, balcony and basement.
Specification:
Model No.
PIR-613 UFO Sensor
Power Supply
AC100~240V 50/60HZ
Max. Load
Incandescent lamp: 600W, Fluorescent lamp: 200W, Energy saving lamp: 240W and LED lamp.
Fuse: 3A
Power Consumption
standby :220V-10mA, 110V-5mA
Adjusting Angle
R & L: 150°, Up & Down: 90°
Sensing Angle
R & L:< 130°, Up & Down: < 90° (at 25°C)
Sensing Distance
8m (at 25°C )
Environmental control
time and day & night functions
Off Delay time
6~600 sec.
Warm-up Procedure
Install in the daytime: the lamp will flash 3 times after energized.
Install in the nighttime: the lamp will light for about 30 seconds then shut off automatically after the charge.
Dimension
9.6× 9.6× 6.2cm
Weight
165g
Wiring
2IN/2OUT
Instructions( Three adjustable knobs provided as described below):

Adjust for day& night.
Sun: The sensor operates whenever people arrive.
Moon: It only operates at dark surroundings.

Adjust for off delay time.
6: about 6 seconds. 600: about 600 seconds
Sensing Range and Distance: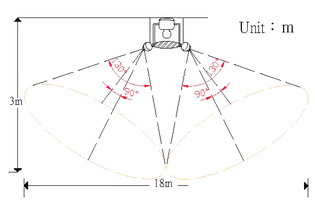 Wiring Diagram: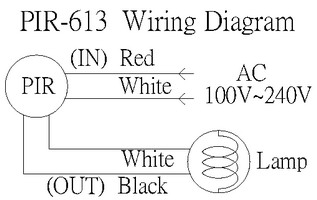 Application place: