PIR-501AC Large Lens Sensor

Model No : PIR-501
Functions & Characteristics:
The lamps always light up when people come close to its sensing range. The lamps will shut off within the off delay time when people leave beyond the sensing distance. It is very energy-saving, convenient and safe.
Special circuit design which can resist spark, surge and noise.
Time, day& night and distance can be adjusted. It can be installed on the wall and the ceiling.
Combine with any lamp, such as Incandescent lamp, Fluorescent lamp, energy saving lamp and LED lamp.
Application places: Hallway, door gate, corridor, stairs, garage, balcony and basement …etc.
Specification:
PIR Motion Sensor (Large Lens Sensor)
Model No.
PIR-501 Large Lens Sensor
Power Supply
AC100V ~ 240V, 50HZ/60HZ
Max. Load
Incandescent lamp: 600W, Fluorescent lamp: 200W, Energy saving lamp: 240W and LED lamp.
Fuse: 3A
Power Consumption
AC220V/35mA ; AC110V/17mA
Sensing Angle
< R&L:140°, UP&DOWN: 90° (at 25°C)
Sensing Distance
8m (at 25°C )
Off Delay time
15 sec.~10 min.
Warm-up Procedure
Install at daytime: the lamp will light for 6 seconds after energized.
Install at nighttime: the lamp will light for about 15 seconds then automatically shut off after energized.
(under" Moon " status)
Dimension
10×10×5cm
Weight
130g
Wiring
2IN / 2OUT
Instructions( Three adjustable knobs provided as described below):

Adjust for day& night.
Sun: The sensor operates when people arrive no matter daytime or night.
Moon: It only operates at dark surroundings.

Adjust for off delay time.
15: about 15 seconds. 600: about 600 seconds.

Adjust for sensitivity.
Turn left: short sensing distance.
Turn right: long sensing distance.
Sensing Range and Distance: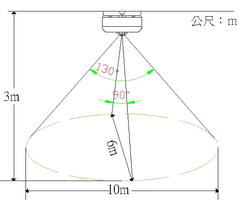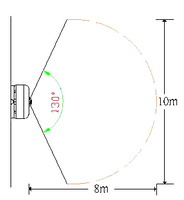 Wiring Diagram: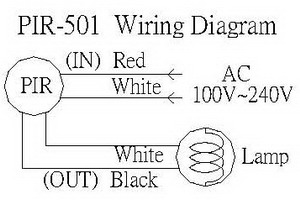 Application place: