PIR-507 Extended-In Light Sensor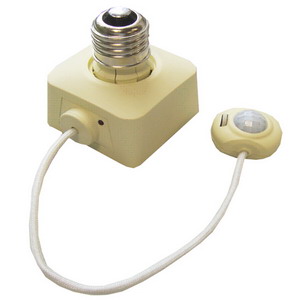 Model No : PIR-507
Functions & Characteristics:
D.I.Y. design - Fire resistant material used and high-temperature resistance.
It has good quality, security, convenience.
With screw-in lamp, the body of sensor can be turned left or right around 355°, and the extended sensor line can be pulled outside to the sensing place and for djustment.
It has time and day & night functions on the sensor part and it can be set freely.
It is suitable for Incandescent lamp 60W, Energy-saving lamp 23W and LED lamp.
Certificates: JET and CE.
Application: Hallway,stairs, door gate, corridor, garage, balcony and basement.
Specification:
Model No.
PIR-507 Extended-In Light Sensor
Power Supply
AC100~240V 50/60HZ
Max. Load
Incandescent lamp:60W, Energy saving lamp :23W
Power Consumption
standby: <1.3 W
Sensing Angle
R&L < 130°, Up & Down < 90°(at 25°C)
Sensing Distance
8m (at 25°C )
Illumination
1: under 300 LUX, 2: under 30 LUX, 3: under 3 LUX—sensor is active
Off Delay time
6~600 sec.
Warm-up Procedure
Install in the daytime: the lamp will flash 3 times after the charge.
Install in the nighttime: the lamp will light for about 15 seconds then automatically shut off after energizing.
Dimension
6×6×7.5cm
Weight
85g
Wiring
Rotating socket
Instructions( Three adjustable knobs provided as described below):
Turn off the power source, and take off original screw bulb and then put bulb into PIR-507.Finally, install them into the lamp holder and turn on the power source.
It has time and day& night functions on the sensor part, and it can be adjusted freely.
Install in the daytime: the lamp will flash 3 times after energizing. Install in the nighttime: the lamp will light for about 15 seconds then automatically shut off after the charge.
Off delay time: 6~600 sec.
Illumination: (1) under 300 LUX, (2) under 30 LUX, (3) under 3 LUX—sensor is active
Sensing Range and Distance: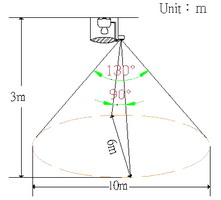 Application place: